Veronica was born in the Apennines after her mother was offered a job and moved here from Genoa. She's always lived here and it's never crossed her mind to go anywhere else.
I lived in Parma when I was a student, but I knew I was only ever going to be there temporarily. I count myself very lucky because I've never even thought about living anywhere but in the Apennines. Whatever life had in store for me, I was always certain that this was the place for me. That's where I get my strength, because no alternative has ever sprung to mind. I've never had any doubts and there have never been any stumbling blocks of any kind. My husband has been there and grown alongside me ever since I was a teenager and he's just as sure as me that the mountains are the place he wants to be. Rather than a choice, it's an unwavering certainty. It gives you a sense of inner peace, as your conscious and unconscious minds are aligned. You can live safe in the knowledge that you have a home and a place to stay.
I opened my veterinary clinic in 2006 and it became so much of a second home for me that I decided to buy the place. My eldest daughter was born in 2014 and my second one in 2017. It was only after we experienced a major life event that we decided to get married in 2020, with an intimate ceremony.
I realize how privileged I was to be able to buy a plot of land outside town at the foot of Monte Campestrino and build our own little place there, with a garden where I can keep all of my animals. I normally wake up very early in the morning. I look out of the kitchen window at Monte Cusna and Monte Prampa and I feel at HOME, just as I do when I go along Via Sparavalle towards Castelnovo ne' Monti and I see the Pietra di Bismantova. Sometimes I linger and watch the tourists who stop at the bend in the road to admire the sweeping views and take pictures of the scenery. I try to imagine what it's like to look through their eyes at things that are part of my everyday life. It makes me feel totally at peace with myself.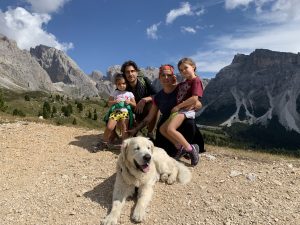 I don't think that people who've always lived in the mountains would be able to live anywhere else. There's no denying that there are some difficulties, such as when it snows in the winter or the fact that you always have to drive every time you want to do something. When you describe them, it can sound like it all gets a bit much but at the same time that isn't always the case. It all depends on your point of view and how you choose to look at what you get out of living here. I am privileged and fortunate enough to have a family around me who have the same outlook on life as me and help me with my children. I've never known any other way of life but when I compare it to other options I always find lots of good reasons to stick with what we're doing and how things are. My roots have always been stronger than everything else. This is something that's part of me and I feel that's how it should be.
Don't get me wrong: I love going into town and I like to give the girls a taste of the opportunities that are on offer in a big city, but I'm only ever a temporary visitor. I soak up the influences and take the riches back home with me. My daughters in particular find it the most natural thing in the world to act as a bridge and share their sensations and experiences from the city with their classmates and vice versa. They really strike a chord with visitors, such as people on day trips to Lake Calamone or Bargetana. With their natural approach, I'd love it if the children could be the ones to spread a little of our green world and our weird and wonderful existence – which is only seemingly full of hard work and sacrifices – down to the city and the plain.
There's a marvellous sense of balance and stability up here and long may it last!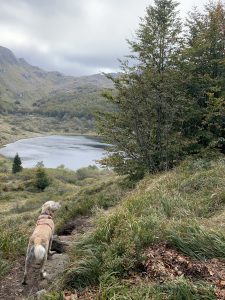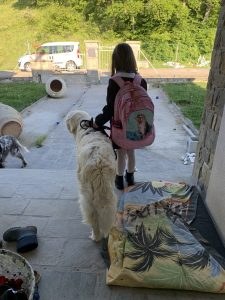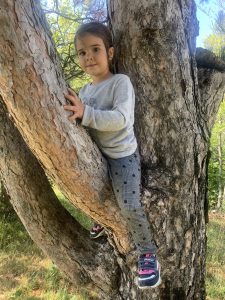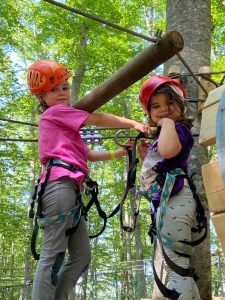 Italiano