Although she was born in the Apennines, Sara Scaruffi had always lived down on the plain in Rubiera. Then one fine day in 2008, she decided to leave it all behind her and pack her bags for Ligonchio. Now she is the linchpin of the village's San Rocco Community Cooperative.
In what I now like to think of as my "previous life", I had a steady job that I loved. Unfortunately, it was extremely demanding and I didn't have room for anything else in my life because I was constantly rushing around, so in the end I gave it up. I'd found myself in a vicious circle and it was only by knocking it all on the head that I was able to think things over with a clear mind.
I've turned my hand to all sorts of things over the years and I've even worked two or three jobs at the same time to make ends meet. My partner and I opened a B&B that's open all year round and in 2012 I found a permanent position just 10 minutes from my home. It's literally 10 minutes away at any time of year and at any time of day, even at rush hour.
We managed to fit into the social fabric of Ligonchio right from the start. There have been plans – and a need – to form the San Rocco Community Cooperative for a long time, but it was not legally established until quite recently. We've been looking into new solutions for years because we play a leading role in highlighting the issue of young people moving away from the mountains towards towns and cities in search of work and due to the usual problems that we all know about.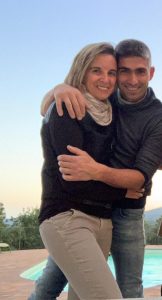 We come up with ideas, get creative, try things out and think up proposals and little projects to put into practice. For example, there's the Big Bench in Ligonchio. Although objectively speaking it doesn't have anything practical to add or offer to the area, it's proved very attractive to tourists and encouraged lots of people to spend a little more time here. The same is true of the large frame that can be seen at a local viewpoint. Despite the fact that it doesn't have a direct impact on local businesses, it's wonderful to see so many people passing through. We're laying the foundations for little projects to get things moving. For instance, taking part in the REinVENTA initiative is very inspiring for us and I see it as a way of introducing people to all of our other projects.
There are 60 members in the cooperative and they all took a leap of faith when they decided to join. They are people whose origins lie in Ligonchio and the majority of them are involved in what we call "roots tourism", which is a common phenomenon here. They've paid for one-shot membership. Those who can, or want to, will be involved in the projects.
We're looking into ways to buy new sporting equipment (including special skiing kits for wheelchair users) and thinking about how to reopen the bakery in Ligonchio, which unfortunately closed in December 2020. A bakery has a key part to play in every community, so it's a significant loss for the village.
We've joined forces with the other two local community cooperatives not only to form a network and work in partnership with them – because we're all part of one big mountain community at the end of the day – but also because their experience is an invaluable resource for us.
Did I make the right decision? Without a shadow of a doubt. Every time I think it over, I'm more and more confident I did the right thing. It's had a positive impact on my life and also on the lives of my loved ones. It might be tough sometimes, but the world around us makes it all worthwhile: we live in a people-friendly environment.
The first thing I did on the day after I got here was take my watch off my wrist. I don't want my days to be dictated by the passing hours anymore and I have absolutely no intention of putting it back on. I've finally found my timeless place.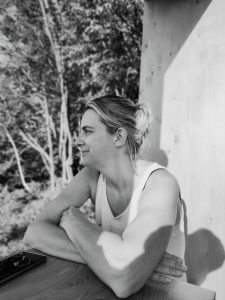 Italiano